Mission Statement
To provide safety, supportive services and advocacy for victims of Domestic Violence and Sexual Assault.
Domestic Violence Brochure rev 2-2015
Sexual Assault brochure rev 2-2015
LGBTQ DV-SA Brochure 3-2017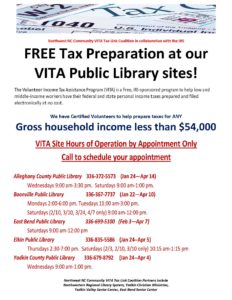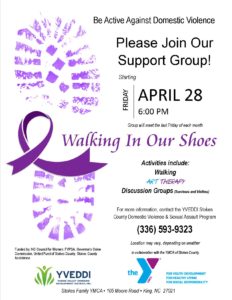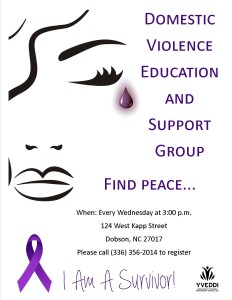 The YVEDDI Domestic Violence/Sexual Assault Programs are operated in the counties of Stokes, Surry, and Yadkin.
The major focus of services is to provide emergency services and assistance to persons who have been victimized by domestic violence/sexual assault.
Basic services provided by programs in each county are as follows:
 24 Hour emergency crisis line
Court Accompaniment
Hospital Accompaniment
Client Counseling
Emergency Transportation
Advocacy
Off-site Shelter
Trained Volunteers
Community Education
Professional Training
Domestic Violence Program Advisory Council
Local Domestic Violence Program Office
Job counseling specifically designed for DV survivors entering the job market, taking into consideration their previous absence from the job market, their lack of recent paid work experience, and building upon the skills and experience possessed by the  client.
Job training and job placement services to train and place DV survivors for and into available jobs in the public and private sectors.
Health education and counseling services with respect to general principles of preventive health care, including, but not limited to, family health care, nutrition education, and the selection of physicians and health care services.
Financial management services with information and assistance on all aspects of financial management, including, but not limited to, insurance, taxes, estate and probate matters, mortgages, and loans.
Educational services, including information services concerning available secondary and post-secondary education programs beneficial to DV survivors seeking employment, and information services with respect to all employment in the public and private sectors, education, health, public assistance, and unemployment assistance programs.
Referral, follow-up and advocacy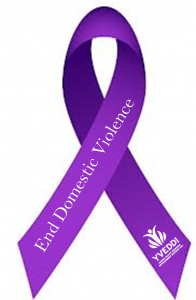 Finding Shelter from Domestic Violence for Your Pet
Pet Custody and Divorce
Community Resources
 911
Stokes County
Stokes County Sherriff's Department: 336-593-8787
Stokes County Communication: 336-593-8139
King Police Department: 336-983-0886
YVEDDI Stokes Family Violence and Sexual Assault
Stokes Government Center
1012 Main Street
Danbury, NC  27016
Office: 336-593-7011
24/7 Crisis: 336-593-9323
Fax: 336-593-2184
stokesdv@yveddi.com
Surry County
Surry County Sherriff's Department: 336-401-8900
Mt. Airy Police Department: 336-786-3535
Pilot Mountain Police Department: 336-368-4725
Elkin Police Department: 336-835-9822
Dobson Police Department: 336-356-8161
YVEDDI Surry Family Violence and Sexual Assault
124 West Kapp Street
Dobson, NC  27017
Office: 336-443-4030
27/7 Crisis: 336-356-2014
Fax: 336-356-2015
surrydv@yveddi.com
Yadkin County
Yadkin County Sherriff's Department: 336-679-4217
Yadkinville Police Department: 336-679-2863
Boonville Police Department: 336-367-7828
East Bend Police Department: 336-699-8560
Jonesville Police Department: 336-835-5020
YVEDDI Yadkin Family Violence and Sexual Assault
106 E. Elm Street
P O Box 1053
Yadkinville, NC  27055
Office: 336-849-4070
24/7 Crisis: 336-679-2072
Fax: 336-679-2236
yadkindv@yveddi.com
National Sexual Assault Hotline: 1-800-656-4673 ext. 1
YVEDDI Domestic Violence and Sexual Assault Programs funded by Governor's Crime Commission, N.C. Council for Women/DV Commission, Stokes County United Fund, United Fund of Surry, Yadkin County United Fund, Yadkin Valley United Fund, County of Stokes, County of Surry, County of Yadkin and other resources. Laws, regulations, and funds limit all services provided.