Senior Enrichment Program brochure 6-2016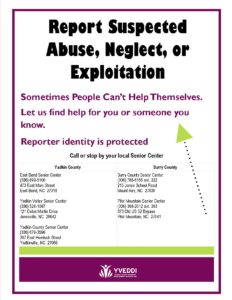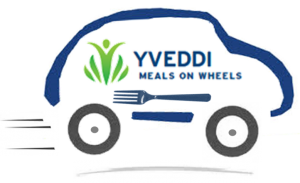 Services for Seniors
Meals on Wheels
Definition: Homebound is defined as being confined to the home due to reason of illness or incapacitating disability.
Nutritionally-balanced noon-time meals are delivered five (5) days a week, Monday through Friday to eligible homebound persons 60 years of age and older.  The meals are provided to help maintain or improve the health of seniors, thereby enabling them to stay in their own homes for as long as possible.
Meals are delivered by volunteers who are reimbursed for use of their personal vehicle.
To make referrals or to obtain information about needed volunteer services, contact the Congregate Nutrition Centers at the telephone numbers listed.
Congregate Nutrition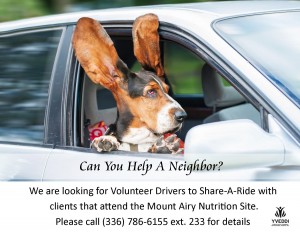 The Congregate Nutrition Program is available in three locations in Yadkin County and four locations in Surry County. This program provides a nutritionally-balanced meal catered by Aramark. The clients enjoy a number of activities like field trips, seminars, bingo, health and wellness promotion activities, and just socializing with other seniors. The program is available free of charge to anyone over 60 years of age and older.
Nutritionally-balanced noon-time meals are served five (5) days a week, Monday through Friday to seniors 60 years of age and older at the following Nutrition Sites/Centers:
Yadkinville
336-679-3596
2047 East Hemlock Street
Yadkinville,   NC  27055
Jonesville
336-526-1087
121 Delos Martin Drive
Jonesville,   NC  28642
East Bend
336-699-5100
473 E. Main Street
East Bend, NC  27018
Mount Airy
336-786-6155 ext. 233
215 Jones School Road
Mount   Airy, NC  27030
Pilot Mountain
336-368-0175
873 West   52 Bypass
Pilot   Mountain, NC  27041
Legal Assistance

Legal Assistance is intended to protect and secure the rights, benefits, and dignity to clients 60+ years of age. Services performed under this program are civil, non-fee producing.Examples are: Wills, Power of Attorneys, Health Care Power of Attorneys, Land/Deed Transactions, Hearing Regarding Public Benefits, Counseling, and Consumer Complaints.Services are provided by local, participating attorneys.Legal Services are available to Surry, Stokes, and Yadkin County residents who are 60 years of age and older.If you are interested in this program or know a senior citizen that could benefit from this assistance, please call YVEDDI at:
 Yadkin County 336-367-3531
Surry County 336-786-6155 ext. 233
8:00 a.m. –4:30 p.m.
Monday – Friday
Transportation Services

These services provide travel to and/or from community resources such as medical facilities, nutrition sites, or other locations for the purpose of accessing needed services or carrying out activities necessary for daily living. Services are limited to individuals 60 years of age and older.
YVEDDI provides services to Davie, Surry, and Yadkin Counties.
Additionally, transportation is provided for persons attending Congregate Nutrition Centers in Davie, Surry, and Yadkin Counties and for Supportive Services for these centers.
If transportation is needed, please call:
Monday—Friday
8:00 a.m. – 4:30 p.m.
Call 336-679-2071 or contact the Site Manager at the Nutrition Center
Please give 48 hour notice for transportation services.
Funded by Federal Older Americans Act funds,  state funds, local funds, United Fund of Surry County, United Fund of Yadkin County, Participant Contributions, and donations per contracts with the Piedmont Triad Regional Council the Area Agency on Aging.
E-Mail:  elderlyservices@yveddi.com
Senior Centers
Each Center is open Monday through Friday from 8:00 a.m. – 4:30 p.m. and some evening hours for various classes and activities. Please call the center nearest you for a current schedule of events and activities.
Yadkin County Senior Center
336-679-3596
2047 East Hemlock Street
Yadkinville,   NC  27055
Yadkin Valley Senior Center
336-526-1087
121 Delos Martin Drive
Jonesville,   NC  28642
East Bend Senior Center
336-699-5100
473 E. Main Street
East Bend, NC  27018
Mount Airy Senior Center
336-786-6155 ext. 225
215 Jones School Road
Mount   Airy, NC  27030
Pilot Mountain Senior Center
336-368-2012 ext. 203
873 Old US 52 Bypass
Pilot   Mountain, NC  27041
RSVP (Retired Senior Volunteer Program)
Recruits, places, and supports older citizens in humanitarian pursuits effecting measurable improvements in community life in Surry, and Yadkin Counties.
336-786-6155 ext. 224
******************************************************************************
4 Activities to Improve Retirees Physical and Mental Health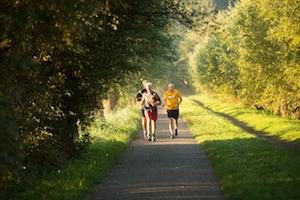 For so many people who claim not to have enough time to work out, retirement can bring new opportunities for renewed physical activity. It's also a good idea for these retirees to work out their brains with activities that improve mental health as well. If you've recently retired and are looking for ways to get physically and mentally fit, our 4 activities are a great place to start.
1.Begin with a Trainer
Unfortunately, many retirees have not participated in regular exercise for many years. Getting back into a fitness routine or starting one for the first time is better for seniors if they do so under the guidance of a certified fitness trainer who can introduce them to activities tailored to their goals. Some retirees want to be more flexible, some want to be more active to keep pace with their grandchildren, and some want to take part in softball teams, bowling leagues, and golfing teams.
Keep in mind that trainers are not doctors, and only a doctor can tell a senior if they are healthy enough to begin an exercise program. A complete physical examination is a rule of thumb for retirees who want to get more active so they know if they have a risk of heart attack, stroke, or orthopedic injuries. Once they are cleared to begin working with the trainer, seniors will learn safe ways to work out and get active because the trainer knows how to reduce their risk of injury.
2. Start Walking
Usually, most doctors recommend that retirees begin getting back into an active lifestyle by starting a walking routine. Walking is low-impact and does not damage knees or joints the way that jogging and running do. If walking is too boring for you, incorporate it into a hobby you enjoy such as bird watching or geocaching.
Some people enjoy walking more when they walk with a friend of the four-legged variety. If you're not a pet owner, you can get the benefits of walking a dog by becoming a pet sitter or a freelance dog walker. You'll reap all the benefits of having a dog, such as getting active by going for walks more frequently or for longer distances and releasing stress and tension by petting the dog and playing with it. Several studies have shown the benefits of spending time with dogs, even if you don't own them. Dogs also provide mental stimulation and boost people's moods.
3.Go Swimming
Many retirees also enjoy swimming because it is a low-impact activity but packs a punch when it comes to physical health. Whether you swim laps or take a water aerobics class, getting into the pool works out numerous muscles and strengthens the core and heart. Seniors who swim also improve their endurance.
Swimming offers mental health benefits as well. People who swim in lakes or the ocean relax more easily and experience less stress because of the calming effect of water. Swimming laps is rhythmic enough to allow retirees to meditate. Taking a break from exercising in the water to float on your back or on a pool float also relaxes you and gives you time to clear your head and lower your stress levels.
4.Play or Listen to Music
For some seniors, retirement gives them more time to pursue the musical pursuits they had to put to the side while raising children and working. Playing an instrument later in life is a fantastic way to boost mental health and dexterity. Studies show that people's brains continue the increased activity they experience while playing an instrument for up to 12 hours after stopping play.
If you can't play an instrument and don't have the means to learn, listen to music instead. Listening to music helps seniors reminisce and is especially helpful for people who struggle with dementia. Music has been shown to have a calming effect on people and reduce anxiety and stress. Additionally, listening to music results in people processing beats and rhythms while connecting to memories, which stimulates the brain in many ways.
Retirement offers seniors the freedom to participate in activities that are good for physical and mental health. The possibilities for having a fun, engaging lifestyle during the retirement years are nearly endless as long as you have an open mind and are willing to try new things or go back to things you haven't tried in years.
Image via Pixabay by misign
Written by Jason Lewis