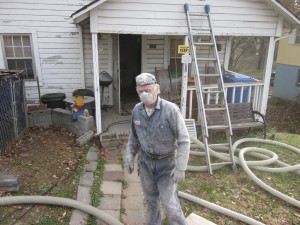 Weatherization brochure rev. 7-2016
The Weatherization Program is designed to weatherize homes of elderly, disabled, and low-income persons in our service area of Davie, Stokes, Surry, and Yadkin counties.
Weatherization measures may include:
Weather-stripping

Air infiltration reduction

Attic insulation

Floor insulation

Wall insulation

Blower Door Testing of home

Water heater insulation

Pipe insulation

Compact fluorescent bulbs

Water conservation measures

Other energy saving measures
Eligibility for services is based upon accountable income of the applicant family – which is based currently on up to 200% of the U. S. DHHS Family Poverty Index.
HEATING AIR REPAIR AND REPLACEMENT PROGRAM
HARRP is used in conjunction with the Weatherization Program.  To qualify for HARRP services, you must meet the same eligibility requirements as for the Weatherization Program except the income guidelines are currently based on 150% of the U. S. DHHS Family Poverty Index.
Some items that can be done with the HARRP are:
Repair or replace existing heating system
Test for carbon monoxide
Install vented space heaters
Tune ups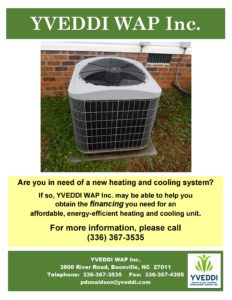 For information, contact:
YVEDDI Weatherization Program

3800 River Road
Boonville, NC 27011
Ph: 336-367-3535
Ph: 336-367-5997
Fax: 367-4395

E-Mail: weatherization@yveddi.com