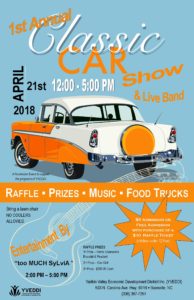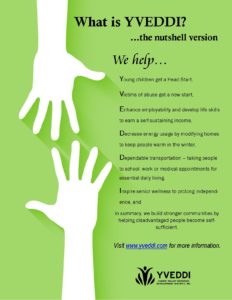 Customer Satisfaction Survey 4-2016
Community Complaint Form 4-2016

YVEDDI is a nonprofit Community Action Agency organized in 1965 to serve the people of Davie, Stokes, Surry and Yadkin Counties, with a 501(c)3 status.  The agency is governed by a 24 member Board of Directors made up of public officials, low-income and private representatives reflective of our service area.  YVEDDI employs about 240 staff and approximately 100 are part-time, with a varying operating budget of $11.2 million for the administration of 65+ grants.  Programs are funded through Federal, State, County Governments, United Fund agencies and other resources.  Community needs, program standards, laws, regulations and funding availability drive service delivery and participants must meet Federal Poverty Index Guidelines, certain age criteria, or other guidelines to qualify for services.
*************************************************************************************

YVEDDI 50th Anniversary Memory Book
*************************************************************************************

What We Do – 3 minute version (video)
What We Do – 17 minute version (video)
Message from the Executive Director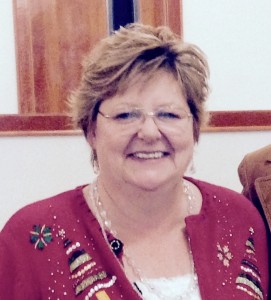 "There are many things to be proud of as the Executive Director of YVEDDI. I am proud of the rich history and tradition spanning 50 years of providing services to the great people of Davie, Stokes, Surry and Yadkin Counties. I am proud that we continue to hold true to our original mission to promote economic and personal development  to build stronger communities. I am proud that we have a distinguished and dedicated board of directors who have been in our corner to guide our path and extend that mission to reach even more people. From our humble beginnings in one location in an old school built during segregation, to the former New Hope Baptist Church up on the hill under the midst of puffy white clouds. This facility (new to us) brought "New Hope"  to YVEDDI by offering expansion opportunities and provided a safer, more pleasant and productive work environment for employees.  YVEDDI now reaches over 50,000 people per year in multiple counties and satellite sites . I am proud of the amazing and dedicated staff who come to work every day with a true sense of mission and commitment. There are over 240 employees throughout YVEDDI who go above and beyond normal expectations every day to make sure that everyone in our care receives what they need to reach their potential. I am proud of the sense of integrity that has become the culture of YVEDDI. We are committed to the highest standards in everything we do. I am proud of the recent recognition we have received in this area, but I am more proud to see it exemplified every day by our dedicated staff throughout the organization. We all take pride in looking back and marking the YVEDDI journey over the last five decades and the amazing things that have been accomplished through dedication and perseverance. At YVEDDI, we remain committed to making continuous improvements and make a difference in people's lives…one individual at a time. I hope that you will take this opportunity to learn more about YVEDDI, our services, our staff, and our consumers.
' In the words of Robert Ingersoll, "We rise by lifting others."
Kathy D. Payne, Executive Director
MISSION STATEMENT
"Dedicated to improving the lives of individuals and families in Davie, Stokes, Surry, and Yadkin Counties through a variety of programs and partnerships to build stronger communities."
VISION STATEMENT
YVEDDI is the best Community Action Agency in North Carolina. Our caring professionals and Board members work in harmony as a team to make a positive difference, promote wholesome living and connect individuals and families to tools and resources that foster success and self sufficiency.
Disclaimer
"Restricted grants, fundraisers and donations only support designated or specified projects or programs allowed by the contributor; resources cannot be disbursed or comingled with other projects or programs to offset any expenditures."